Concrete Contractors Centreville VA
A1 Masonry Contractors, the leading concrete contractors Centreville, VA, provides a holistic range of services. The company has a local presence that helps us understand the consumers' core expectations. We began from a humble beginning that enables us to provide the best services for our clientele. We value client relationship and their satisfaction beyond everything else.  
One of our notable aspects is that we plan and execute the entire project based on the client's perspective. Our team shares our vision and takes utmost stride in maintaining our brand ethos. We handpick our resources through stringent hiring protocols. Though subject knowledge is pivotal to executing a flawless job, this might not be adequate. We expect additional values that would represent our brand to the public.   
Basic knowledge about the industry might not be adequate for us. We require values such as compassion, sensitivity and dedication. As the leading Concrete Contractors Centreville VA, our resources are our representatives in the community. Hence, we train and educate them on our values. We also encourage them to stay updated on the critical developments in the industry. This helps us keep on par with our competitors and provide enhanced solutions to our clients.  
A1 Masonry Contractors Services Centreville VA is your professional concrete contractors in Centreville VA. We are a family-owned business that has been serving the Centreville, Virginia area for over 30 years. From our experience, we understand the importance of customer service as well as providing quality workmanship. Our company specializes in driveways, patios, walkways and sidewalks, but can also help you with all of your other masonry needs. Whether you need stonework or brickwork, we are the concrete contractors in Centreville VA that is qualified to do all types of masonry work.
A1 Masonry Contractors Services offers the best prices on all driveway, patio and walkway paving services without sacrificing quality. We offer free estimates to give you an idea of what your project will cost. Our team of professionals have the knowledge and experience to make your concrete project look beautiful for years to come.
Concrete Services
What are the responsibilities of concrete contractors Centreville, VA?
The construction segment is quite extensive; In the yester years, there was a single person or team who managed the entire operations. They would hire blue-collar resources to execute the project. However, as the industry evolved, it has paved the way for various niche specialties. This means that individual avenues of the industry have become separate segments. The primary advantage of this aspect is that it provides scope for the particular department or unit to grow. On the other hand, the possibilities were quite limited when it was grouped. This means that the team would focus on the bigger picture rather than the single elements.  
Role of concrete contractors Centreville VA
The role of Concrete Contractors Centreville VA, is to focus on structures made of concrete, such as patios, driveways, pathways, etc. These structures are the first vision point when a person enters a house. They tend to form the first impression based on these aspects. We aim to help them design and install visually appealing and sturdy structures. Nevertheless, we understand the constraint faced by the homeowners. People often struggle to maintain their homes. We provide simple instructions that enable them to manage this challenge with ease. Additionally, we also offer regular maintenance services.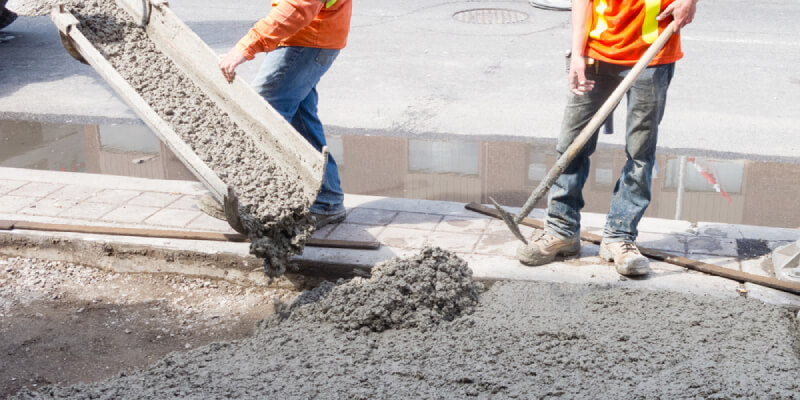 A1 Masonry Contractors in Centreville VA is a fully licensed and insured concrete contractors that provides main services such as
Brick Veneer
A brick veneer is a thin layer of brick that is used to cover a wall. It is often used in place of full blocks or bricks to create a facade that mimics the look and feel of real brick, but at a much lower cost and with less labour involved. Brick veneer can also be used to cover bare blocks or concrete in an interior setting, but it's most commonly seen on the exterior of homes. It can also be used on fireplaces, as accent walls and in other locations where solid brick would be too heavy.
Brick Mailboxes
Brick mailboxes are also known as masonry mailboxes, which describe the fact that they consist of masonry materials such as stone, concrete and real brick. They are typically built by a mason, although some companies sell kits for DIY projects. The materials are often available at home improvement stores and the local hardware store, so homeowners could build their own if they choose not to hire someone to do it for them. Compared with wood, metal or plastic mailboxes, these are more expensive but also more durable, lasting for many years without any need for maintenance. They are also more attractive than other types of mailboxes, which makes them a popular choice for homeowners who wish to enhance the curb appeal of their homes.
Other services include:
Concrete is an extremely versatile building material and is used in a variety of construction projects, such as foundations, walls, patios, walkways, driveways, flooring, countertops and more. Concrete is one of the most widely used building materials in the world. As a construction material, concrete can be cast in almost any shape desired and once hardened can become a structural load-bearing element.
The term "concrete" refers to a mixture of aggregates (typically sand and gravel), cement, and water. In practice, other additives are often included to improve the strength and quality of the concrete. Aggregates are typically the largest volume ingredient in concrete making up from 60% to 80% of the total volume. The type and size of aggregate used to depend on the thickness and purpose of the final concrete product. Relatively thin building sections call for small coarse aggregate, though aggregates up to six inches (150 mm) in diameter have been used in large dams. Sand normally accounts for about 25% to 40% of the volume of concrete; conditions affecting grading influence workability. Stone or gravel is usually preferred because it has better compaction characteristics than sand.
Why Choose Us for Concrete Services in Centreville VA
For expert brick repair and stone installation, contact the masonry experts at A1 masonry Concrete Contractors in Centreville VA. Whether you're looking for a fresh look in your backyard or simply future-proofing your business, we're happy to help!
All companies claim to be the best in the industry. But only a few businesses, such as A1 Masonry Contractors, live up to the claim. Here are some of the explanations why people should choose us 
Accountability 
Our key strength is that we take complete responsibility for all our endeavors. When we take up a project, we do not just do it for the sake of the project. Our team will closely monitor every project aspect and provide the client with the best value.  
Professionalism 
A1 Masonry Contractors are family-run concrete contractors Centreville VA. However, we maintain professionalism in all aspects, from communication to formulation and execution. We have embedded this system as a part of our DNA to render the same quality of services to our clients.  
Transparency 
One of the major complaints about the construction company is the lack of transparency. We establish an open line of communication between the team and the clients. We validate their suggestions and keep them updated on the progress. We do not add hidden charges to the bill under any circumstances. Another essential aspect worth mentioning is our dedicated team. 
Consumers can search using keywords such as concrete contractors Centreville, VA. However, it is important to verify the information before choosing a service provider. 
Homeowners can find a high-quality builders or concrete contractors Centreville, MD by asking their friends and family or even through the social media forums.  
The concrete contractors Centreville MD can provide holistic services for competitive prices