A1 Masonry Contractors, the leading Concrete Contractors McLean VA service providers strive hard to pull the best version of your house. The outside area is the first thing everyone will notice, which is an important component of your home. Your outdoor area needs maintenance and attention to make it seem presentable and reflect your taste. Fortunately, there are various ways to spruce up your outdoor areas, such as lighting, gardens, paint, and mainly concrete.  
Concrete Contractors McLean VA designs for outdoor spaces are more cost-effective, long-lasting, and environmentally friendly than other creative and futuristic solutions. It's no secret that severe weather may ruin your lawn ornaments if you reside there. Since concrete can withstand these conditions, it has replaced other materials as the preferred choice in the greater area.  
Walkways:  
It's common to think of walkways as mere passageways between two rooms or outdoor and indoor spaces, and it primarily serves that purpose but can also be a pretty addition to your garden space. A concrete walkway's potential is vast, making it a key site for showcasing one's aesthetic sensibilities.  
To add character to your walkway, your Concrete Contractors McLean VA might experiment with different styles, such as exposed aggregate finishes or stamped concrete. Many people choose stamped concrete contractors for their walkways. The concrete walkways can also be designed with non-removable patterns using decorative scoring and concrete saw cuttings. After the grooving is complete, it can be given an extra artistic flourish by being painted.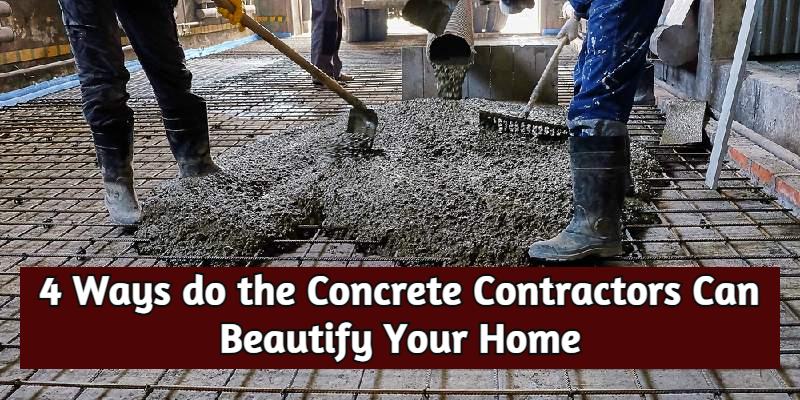 Concrete Driveways:  
Because of its functional and aesthetic qualities, a concrete driveway can beautify your outdoor settings in various ways. When someone new enter your home, they will likely see your driveway first, which means that this area will give them their initial impression of your property. The super attractive concrete work in the driveway will make you proud. However, if your driveway looks simple or in ordinary grey that may spoil the look of your home.  
But you can give a new look to your driveway and house by employing a Concrete Contractors McLean VA. An exposed aggregate driveway is one of the famous concrete designs that the concrete contractors use mostly. They use aggregates such as shells, stones, pebbles, or cobblestones to give your driveway a distinct and appealing appearance. Alternatively, they can construct a stamped driveway that can be sculpted into any design to look like cobblestone or brick. This concrete driveway design may be transformed into almost anything. To get the best driveway concrete design you should hire the best Concrete Contractors McLean VA.  
Patios:  
Patios are designed to be beautiful, so when designing one, you need a material that allows for various design alternatives. Concrete is the most common and classic material a concrete patio contractors McLean VA can use to create the strong and stylish patios. This is because concrete may be shaped into curvilinear or various geometric shapes, to which colours and stains can be added to make it more appealing than the basic grey patios. People nowadays like it this way. They love to keep their patios colourful and attractive.  
Concrete may be coloured or stained, it can be used to create a seamless transition between outdoor and indoor settings. A concrete patio is ideal for this transition, especially if your outdoor and indoor rooms are made of comparably good raw materials. Concrete patio contractors, on the other hand, can provide a variety of textures, colour combinations, and designs for your patio.  
Staining Concrete Floors:
Staining your concrete floors will give them a luscious richness and a gorgeous appearance that no other treatment can match. This is because, unlike paints, acid stains do not leave an opaque or solid impression that covers or removes the aim of the concrete. Acid stains permeate the concrete, imparting transparent tones based on its composition. As a result, the surface appears to have numerous types of finishes.
Because the acid penetrates the concrete, it usually leaves a permanent stain that cannot be washed, peeled, or scraped away. The acid stains will give drab and average grey concrete a brilliant appearance suitable for any outdoor location.  
Concrete contractors McLean VA can also employ an acid combination to create a variety of stains on your patio, driveway, walkway, or other floor surfaces.  
Conclusion:   
There's not much more to be said about the importance of Concrete Contractors McLean VA agency. Concrete is a practical and inexpensive material for your home's exterior that adds a beautiful aesthetic touch. So, choosing the Concrete Contractor near me is vital for any house.